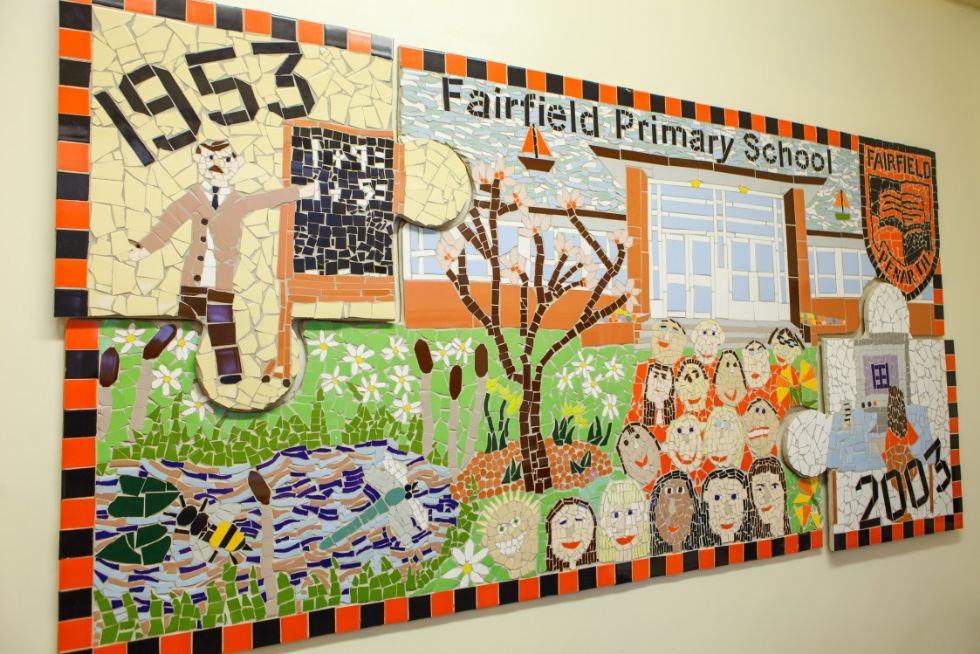 A brief history of Fairfield
Fairfield Primary School, Penarth first opened its doors to children on 13th April 1953 and was officially opened by County Alderman, R.A. Thomas on 20th May 1953.
The school celebrated its 50 years anniversary in 2003 marking the occasion with various events, notably a public exhibition of photographs, documents and mementoes which was very well attended, especially by former pupils and previous members of staff.
Also the children worked with an artist to produce a mosaic (pictured below) to commemorate the 50 year anniversary. The mosaic is situated in the main entrance hall.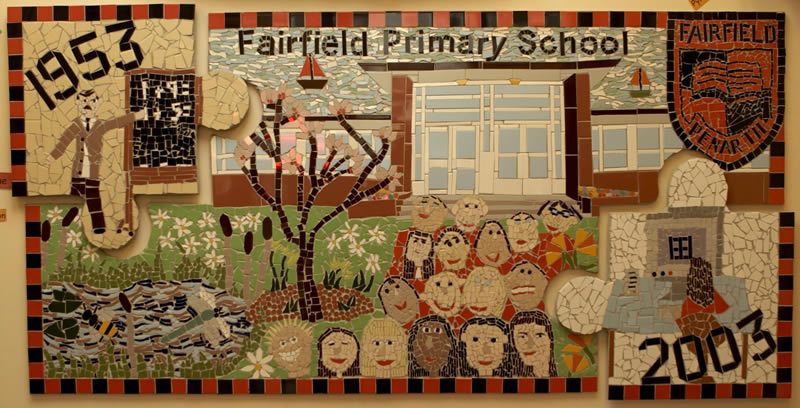 The follow extracts from the School Log Book may be of interest.
Notable Dates from the School Log Book

April 13th 1953

School opens – Mr J. Gwyn Jones appointed Headteacher

May 20th 1953

Official Opening

May 22nd 1953

Coronation Concert

June 4th 1953

Coronation Tea Party

December 8th 1953

Conquest of Everest film shown to Juniors at Washington Cinema (Permission from Director)

March 10th 1953

Planting 5 Cherry, 6 Cypress, 2 Copper Beech and 2 Rhododendrons on drive up to main entrance

September 1st 1954

Mr N. O. Davies joined the staff

June 28th 1956

Buffet in school on the occasion of the laying of the foundation stone for Erw'r Delyn

November 1st 1957

New path across field to Fairfield Road

April 30th 1958

Planted Sitka Spruce and Beech trees as part of celebration of the Festival of Wales

May 5th 1958

School closed – Celebrate Festival of Wales

June 11th 1958

School closed – National Eisteddfod Proclamation

February 26th

School closed – to celebrate the birth of a Prince – Prince Andrew born 19th February

May 5th 1960

School closed – Royal Wedding – H.R.H Princess Margaret and Anthony Armstrong Jones - 6th May

Autumn 1965

New classrooms built – now classes 1 and 2

September 3rd 1969

Mr D. Samuel (retired Headteacher of Victoria School) started work in Fairfield in place of Mr W.A. Jones

May 8th 1970

Mrs G. Dunks – Deputy Headteacher appointed

November 20th 1972

School closed – Royal Silver Wedding

September 4th 1973

Mr A. Thomas joined staff in place of Mr D. Samuel

November 14th 1973

School closed – Royal Wedding – Princess Anne and Lieutenant Mark Phillips

September 2nd 1975

New Headteacher – Mrs Tate

October 13th 1976

Mr Grover – Educational Psychologist visited for the first time!!

April 28th 1977

Mr Goronwy Jones appointed Deputy Headteacher (now Headteacher of Baden Powell School in Cardiff

May 11th 1977

Mrs Jean Barratt (Bispham) appointed Sc2-Maths (now Headteacher of Sully School)

June 1st 1977

Afternoon celebration for Queen's Silver Jubilee

Silver Jubilee Mugs from Penarth Town Council

November 8th 1977

Edinburgh Reading Test to 7 year olds – still going on!!

February 7th 1978

Mr Boast from St. Joseph's appointed – Scale 2 for Language Development

February 16th 1978

Jubilee Silver Birches planted

July 27th 1978

Mrs Sian Simpson visited - replacing Mrs John

September 5th 1978

Mrs Sian Simpson starts in Fairfield in Reception

September 10th 1979

Mrs P. Levick-Jones began in Fairfield on 0.5 basis

June 1980

Mrs Morrison (Robbins) interviewed and appointed for 1 year (retired Headteacher of Albert School)

January 1st 1982

Mr A. Thomas appointed Deputy Headteacher